You have probably noticed the Facebook "Like" button showing up a lot on various websites while browsing online. This button has become a popular and simple way for website owners to build an online following. All you need is a Facebook account, and a little bit of code to add to your Flying Cart HQ, and you can have a working Facebook "Like" button of your very own! We recently implemented one of these buttons for one of our stores – vintageapartment.flyingcart.com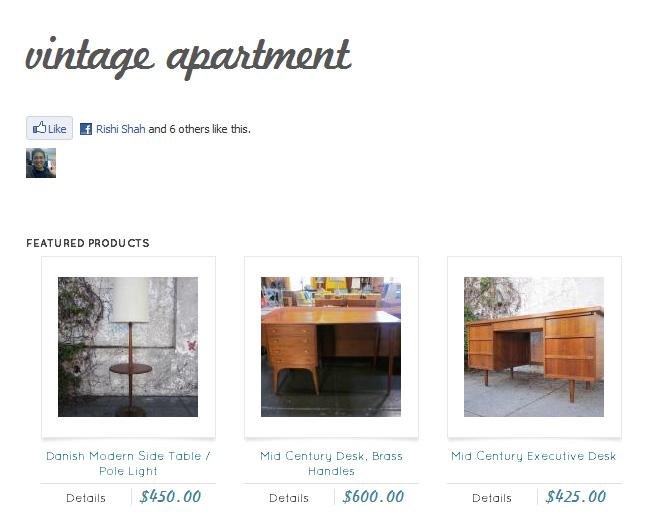 How to implement in your own Flying Cart store:
1. Create an Online Store with Flying Cart
2. Login to your Flying Cart HQ
3. Navigate to "Pages > Homepage"
4. For the "Welcome Message" section, click the "HTML" icon in the upper right corner of the Welcome Message text editor box.
5. Paste the following code for your HTML:
<p><iframe src="http://www.facebook.com/plugins/like.php?href=vintageapartment.flyingcart.com&amp;layout=standard&amp;show_faces=true&amp;width=450&amp;action=like&amp;font&amp;colorscheme=light&amp;height=80″ scrolling="no" frameborder="0″ style="border: none; overflow: hidden; width: 450px; height: 80px;" allowTransparency="true"></iframe></p>
Note: You can alternatively go to http://developers.facebook.com/docs/reference/plugins/like/ and use "Step 1 – Get Like Button Code" to generate your HTML code for you.  In this case, make sure to select the "iframe code" section that is presented to you.
6. Replace "vintageapartment.flyingcart.com" with "[yourstorenamehere].flyingcart.com" (if you are using our supplied HTML code sample in step 5).
7. Click the "Update" button at the bottom of the HTML window (this will close the HTML window).
8. Click the "Update Homepage" button below the Welcome Message text editor box.
That's it. Now you will have your very own Facebook "Like" button on your online store that you created with Flying Cart!
---