We are very excited to show off what we have been working on for the last month. A lot of love and elbow grease went into this.
Google Checkout is Here!

You asked for it, and we now bring you an alternative to PayPal. Process credit card payments using your Google account. Solid and reliable. Yippee!  Go to your Store > Settings tab to set this up.
Why we love Google Checkout:
Its cleaner and easier to process payments
More reliable (did we mention that?)
If you advertise on Google (via Google Adwords) they will display "Google Checkout" under your ad
Using Google Checkout with Flying Cart is easy. Here are our step by step instructions.
Orders Nearly Manage Themselves

Well not quite, but close. Orders now have a nice little three-step process with matching icons:
Get Paid – shows you when the payment is in your account
Ship – click the icon when you have shipped the order
Archive – file the order in your archive to get it out of the way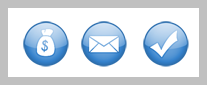 That's Not All
Order numbers now correspond to your PayPal or Google Checkout order number
A PayPal or Google logo on each order shows you how the customer paid
Your customer's billing information is displayed below the shipping information
You can send email notifications to tell your customer that you shipped her/his order (see the Store > Settings tab)
Expanded Options for Charging Tax
You know what they say about death and taxes. Yep, inevitable.

In most states you only have to charge the customers in your state. Now you can easily apply a percentage to the total for customers in your state.
Simplified Shipping Page
Our old shipping page was a little confusing so we changed it around to be more straightforward. 'Nuf said.
Subscribe to our Blog via Email
Get all of our latest news in your email. Keep in touch with our growing community. Read about our newest features and don't miss out on our tips about how to improve your store and how to run your online business.  Plus, enjoy Rishi's goofy humor

  (He did start a joke club in college by the way.)  Sign up here.
Tags: Google Checkout
---