We have just added some cool new features to make your order fulfillment process a snap. Look for these new options on the bottom of each order page in your Headquarters.

Step 1:  Print Packing Slip
Click Print Packing Slip to display a printable page that functions as a receipt and a mailing label. It includes all the order information, your store contact information, and a snail-mail friendly section that you can cut off and attach to the package. Print this on label paper so all you have to do is cut and stick. [Note: print in Landscape mode for best results.]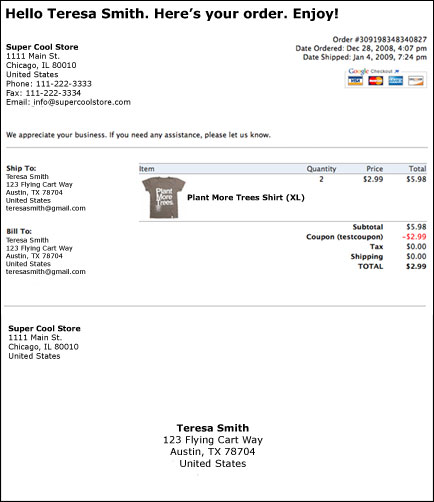 Step 2: Add Tracking Info
Your package is ready to go and you have purchased postage through your favorite shipping service (USPS, UPS, FedEx, DHL). You can now save the shipping service and tracking number with the order so the customer can track the location of the package after it has been shipped.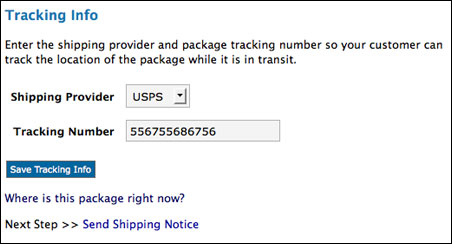 Step 3: Send Shipping Notice
Send your customer a personalized message to let him/her know that the order has shipped. We provide you with a basic message (including tracking info, if available) but you can modify the message as you wish. Shipping notifications are now done on an individual basis, rather than as an automatic option as they were before. This allows you to give your customers a more customized experience.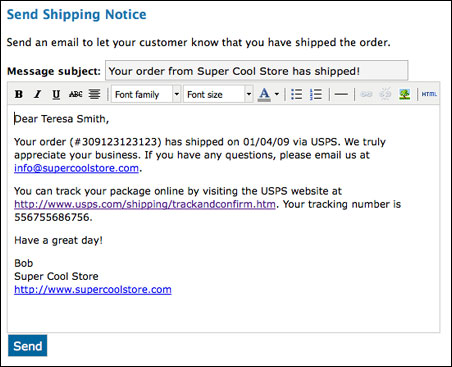 Step 4: Check It Off
Click on the shipping icon (picture of an envelope) to mark it as shipped. When you are done processing the order completely, click on the check icon to put the order in your archive. A blue icon means that step is complete. Look for these icons on the top of each order page.

Related posts:
Tags: shipping
---