Tips for Creating an Online Store
Posts Tagged 'designers'
Friday, September 25th, 2009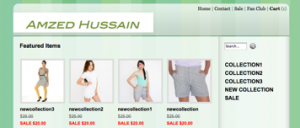 We just added Amzed Designs to our list of talented designers you can hire to design your store.  Check out our full list here.
Tuesday, March 10th, 2009
We love designers. Designers make us look better.  They make things look beautiful.
We are looking to feature designers right off our homepage.  This is a great place for our new customers to learn about your design services.
If you are a designer and want to be featured please send us an email.