Facebook Connect (aka. Facebook Login) gives your shoppers the ability to become a fan of your store with a single click.  We added this feature in to Flying Cart over a year ago, and it has quickly become one of our most popular additions among store owners.  In fact, over 50% of our stores are active monthly users of Facebook Connect!  Here is what the one-click button looks like in your online store: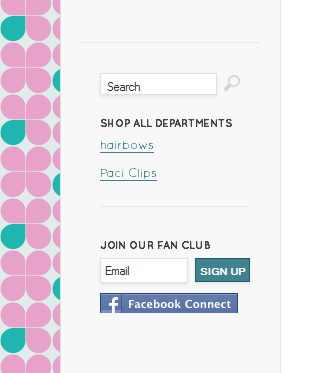 Instead of entering their email address and then clicking the "Sign Up" button, shoppers can bypass the email form entry altogether by clicking the Facebook Connect button just below it.  Leveraging the fact that most shoppers have Facebook accounts, and are probably already logged into their Facebook account, you can use Facebook Connect to increase your Fan signup conversions.  It's an easy and hassle free way of connecting with your customers, and now it's even more secure.
At Flying Cart, we have proactively implemented Facebook's new security protocol called OAuth 2.0 (an open standard Facebook co-authored with a number of other companies, including Yahoo, Google and Twitter).  This ensures that when your customers use the Facebook Connect feature on your store, their information is transmitted via the Gold-Standard of safety and security.
---